What is the Standard Lock Out Tag Out Procedure?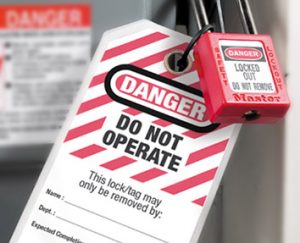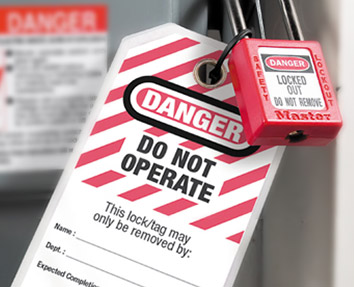 Anyone working with machinery such as in the agricultural- or construction industry are in danger if they don't know how to use their machinery properly. Thousands of injuries and deaths happen on the job each year because people didn't know how to conduct themselves around compressors, harvesters, threshing machines, sprayers, concrete mixers, welding equipment and others.
Lockout is defined in Canada as the placing of a lock on any device which prevents the release of energy according to an established procedure, and then letting it be known that the device isn't to be operated until the lock is removed.  Locks and tags can be bought online.
A lockout/tagout program is important because it prevents the unintended start up of a machine, the unintentional release of unsafe energy and contact with danger while performing important tasks that entail the removal of safe guarding devices.
Tagout is alabelingg process used when lockout is required. The procedure of tagging out a system engages attaching an indicator or label with the following information –
Authorised person's name in charge of attaching the tag and lock
Why the lockout is required
The time when the lock or tag was applied
Danger is All Around
There have been many people who have thought a machine was off and that have been crushed between rollers when the machine came to life. Without a lockout-tagout procedure, there is always that possibility that a machine can unexpectedly start up. This can be because of stored energy not correctly released. Safely operating each of these machines is of the utmost importance and every industry needs to:
Regularly inspect their machines – the machines have thousands of moving parts and regular inspection can avoid accidents happening.
Invest in training – staff need to be well-trained on the highly technical machines they operate.
Make sure that the machine is equipped with all safeguards. This includes things like interlocks, pressure-sensitive mats, 2 hand controls etc
Always choose the right machine for the job. All new machines should come with a Declaration of Conformity and instructions in English
The OHSA Draws Attention to Unusual Hazards
The Occupational Health and Safety Guidelines for Farming and Construction Operations etc was developed to highlight all the unusual hazards surrounding working with machinery on farms and on construction sites. The purpose of the guidelines is to help employers recognize hazards and determine the ways they can comply with their obligations under the Occupational Health and Safety Act (OHSA).
The lock-out tag-out procedure requires that harmful energy sources such as electrical, mechanical, thermal or hydraulic sources among others be rendered inoperative before any kind of maintenance work can be done. OSHA necessitate three basic elements in a lockout – tagout program –
Training – this is imperative for authorized people who will do the maintenance work
Written procedures – these communicate vital infoirermation to those people performing lockout tagout. They will identify energy sources and provide instructions for tagging or locking out energy sources. Procedures need to be kept up to date
Inspections – inspect these procedures at least every year to ensure that they are being followed and that they remain effective.
Basic Steps for Lockout – Tagout
Think through the complete procedure and determine what equipment people will be involved with
Communicate and let everybody know that a lock-out tag-out procedure is happening
Neutralize appropriate power at the source
Lockout all power sources – each authorized worker needs a personal lock
Tag all machines and power sources and include important information on the tags such as the date of tagging and the cause for the lockout
Carry out a complete test – test circuits, start buttons etc
Get ready for restart – after the job is accomplished, follow the safety measures you have set up for restart
Before workers begin a service or maintenance activities they need to –
Prepare for shutdown
Shut down the machine
Disconnect the machine from energy sources
Apply the lockout or tagout device to the energy-isolating device
Render safe all potential hazardous stored or residual energy
Verify the isolation of the machine.
Get the Necessary Training
In most instances, the problem doesn't actually lie with the machinery being used, but rather in the way the machinery and equipment is used – or abused. Most machine related injuries are caused because machinery isn't well maintained, the person using the machinery isn't properly trained and the machine isn't used correctly. The onus is on every employer to ensure that all safeguards are in place and that machinery is used safely every time.